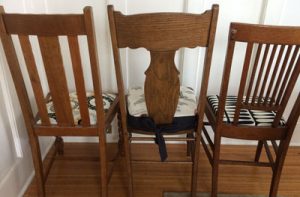 Last winter was a long one in the midwest. And to keep myself from pining away for my Up North House project, I spent it figuring out the dining room. (If you're curious about this project, click the "blog" button at the top of the page and back up and read the blog from Idea #96 "Honor a Memory").
We decided for our big group we need a huge harvest table, so large we will have to make it, with (for now) 20 chairs. I say 'for now' because you have to start somewhere. But we will probably add a bench or two for those occasions when we need to squeeze in more.
Like most families we are not made of money. So solutions have to be clever, and often I find throwing more time than money at a problem is not just thrifty, but results in a much more creative and inviting space.
Case in point: the twenty chairs.
If you haven't bought new dining room chairs recently, you would be in for sticker shock. Multiply that by 20 and I will tell you this is not something that fits into my budget. In a conversation with my daughter one day we came up with a plan. I began haunting Craig's List for sturdy wooden chairs. I decided I would not even look at anything over $25 a chair. I was immediately inspired by what I found and began buying chairs. I didn't buy if there were less than four of the same chair. I felt this amount of variety would work better than if they were ALL different. I ended up with five sets of four chairs. Two of the sets are almost identical but one has caned seats and the other, solid wood.
We set up the glue factory in the basement and glued/clamped and tightened all that needed it. I went on YouTube and learned how to cane so I could repair the few that needed that. This pic shows my newly caned version (left) next to an original. While the fresh cane is pale in color, it will darken naturally with age.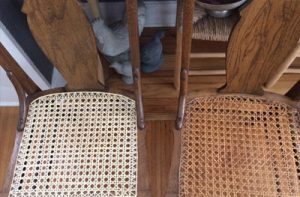 Then I spent the rest of the winter finding and sewing a lively/casual/interesting collection of fabric for seats and chair pads.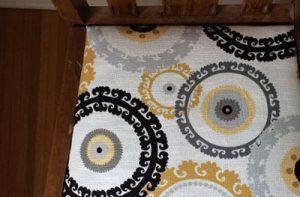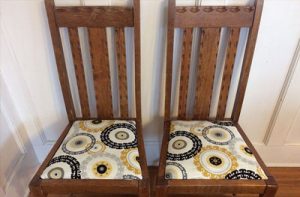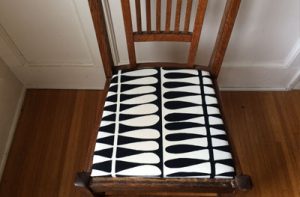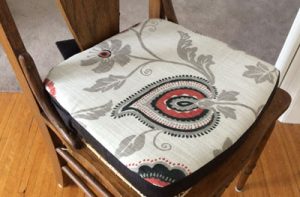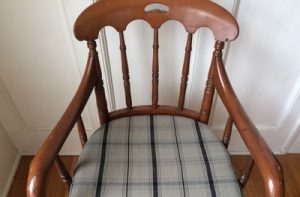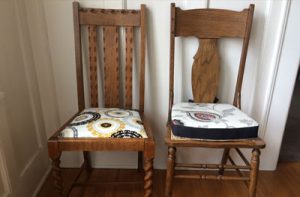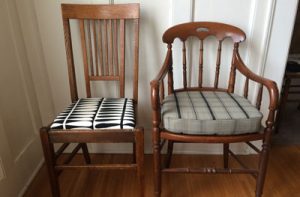 It was fun to figure out fabrics that did not match but were each special for the chair it went on, and somehow managed to live together just right. I bought 20 chairs and three tables from Craig's List and since I wasn't shopping for tables I figured I ended up spending an average of $18 per chair if you count the three tables as thrown in for free. Actually, the tables came in handy as we lined them up and pretended they were one long harvest table. This will do, until we can make that spectacular table of our own!
And here is how they look in the house.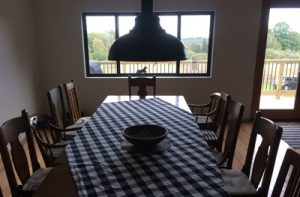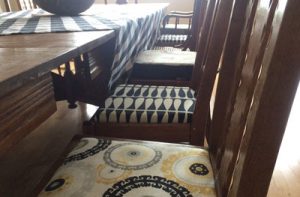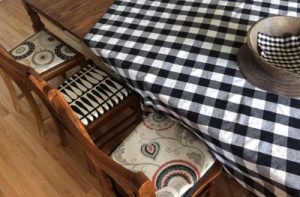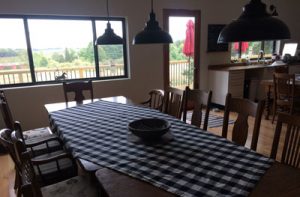 Now that we've shared many family meals I can report these are working just fine for our lively/casual/interesting group. And there's always next year to work on the bedrooms!
Keep track of our house project by following #conboyhouseupnorth on Instagram.