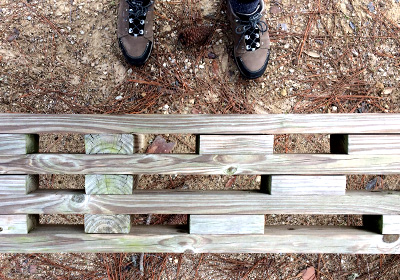 A few weeks ago my husband and I decided we needed to get out of the frozen tundra, so we took a road trip south to Wakulla Springs near Tallahassee Florida. It was there, on a hike, that I came across this beautiful, elegantly designed bench made entirely from 2x4s.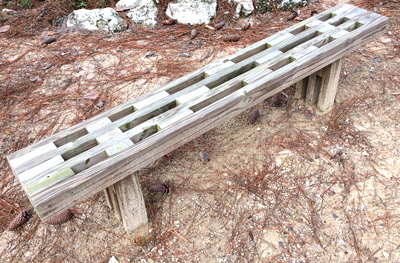 There wasn't an ounce of give in the bench. It was permanently fastened in place, presumably the legs were set into poured cement footings underground, much like a fence post would be.
It goes without saying, this solution was as sturdy as you like. After all, the 2×4 is the building block of most every house and building on the block. But what I really loved was the thoughtful way the bench was conceived, using no more and no less wood than was absolutely perfect.
And it made me wonder what else could be made out of 2x4s. So, of course, I Googled it.
I shouldn't be surprised that there are tons of posts about making things from 2x4s. After all, this is such an available and affordable source for wood. A 2×4 costs about $3. And it can be easily bought, brought home in your car, and cut up.
But in my opinion there is a big difference in the project ideas out there. And I decided to collect and present to you MY idea of the coolest 2×4 projects. My criteria includes:
•Finished piece has to be attractive, and un-2×4-like. (Crates, picnic tables and things like that are items I consider to be too 2×4-like).
•There has to be a reason to use a 2×4 as opposed to another form of wood (many designs call for slicing the 2×4 to make it into boards. In my book that's too hard, and I would just buy boards. Or carving it into fancy moulding-again would make more sense just to buy the right molding).
•It can't just be things cut into chunks and painted to look cute. (These are fine, but they're more about the painting and less about the 2×4).
I noticed many (but not all) these tutorials "square up" the 2×4 first. I think removing those rounded edges looks awesome and makes a huge difference.
So, here are a few projects some amazingly clever people are doing out there. In each case I'm linking to their tutorial as they need to get credit for such fine ideas!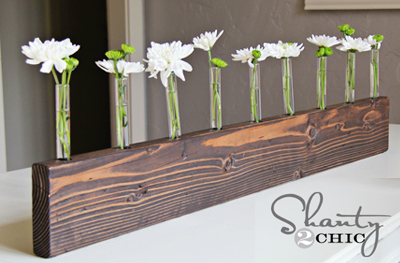 This beautiful vase idea is so elegant. You may say it broke one of my rules as this is not a 2×4, it's actually a 2×6. But I think it would be lovely in a 2×4, and IMO even nicer if you sharpened the corners so they were perfectly crisp. But kudos to Shanty Chic for the idea and tutorial.
Here is another vase, this one a little more complicated to make, but equally elegant. Find the tutorial for this one here.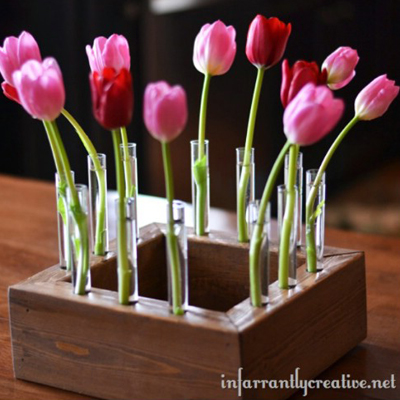 I love how this coffee table manages to be 2×4 and modern sculpture all at once. Find how to make it here.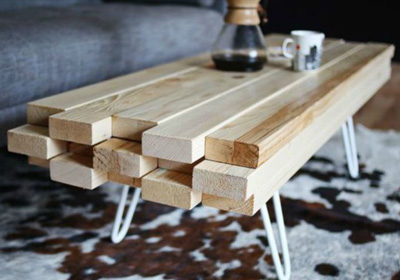 The couple who made it was inspired by this table. I thought it very astute of them to make the connection between this table and their coffee table need.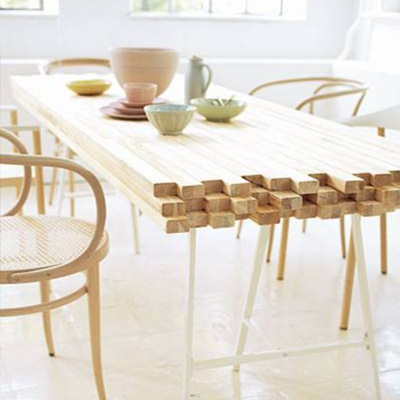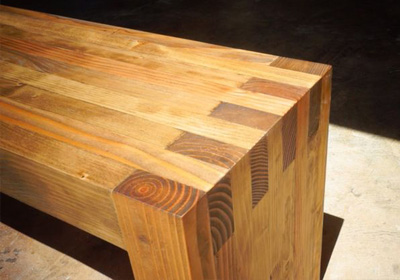 As the tutorial says: Less is more! This bench shows how classy the 2×4 looks when the edges are sharpened. And I love how the interlaced wood makes for a dovetail joint look. This thing is gorgeous.
I absolutely love this lamp idea. If anyone makes this please send me the photo! So far there is just the drawing. Find the brilliant tutorial here.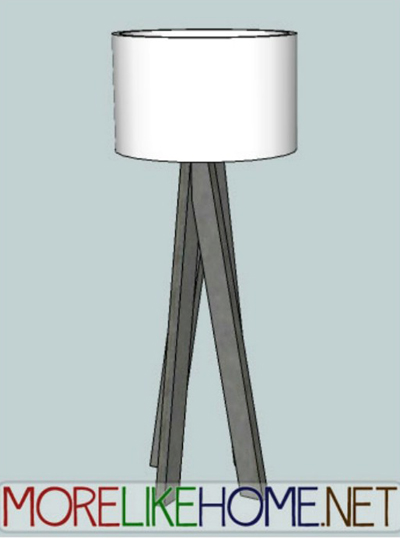 What's not to love about this extremely minimal wine rack? I would probably sharpen up the edges and put the paint or stain inside the drilled holes as well. While I love the 2×4 idea, I would also want to hide its identity just a little more!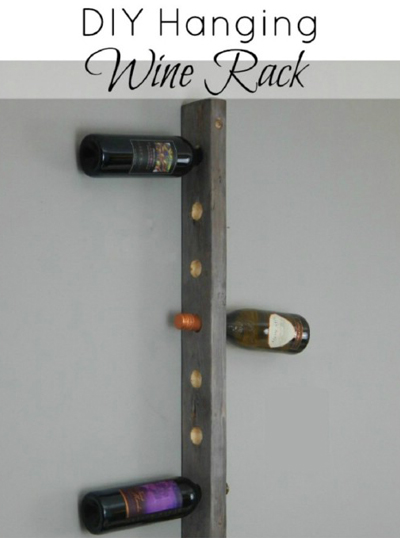 While we're talking simple, these 2x4s are cut and attached to form stair steps for the spice bottles to be displayed. While the idea is simple, I like how care was taken to finish the project in a clean white semi-gloss, and the bottles were labeled so the spice names can be read in any row.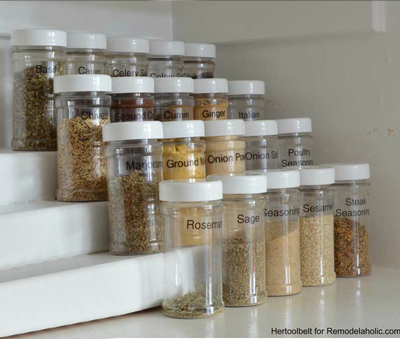 Anyone who follows my posts knows I just love a project that looks far more expensive or difficult than it was. I can't wait to try out some of these!