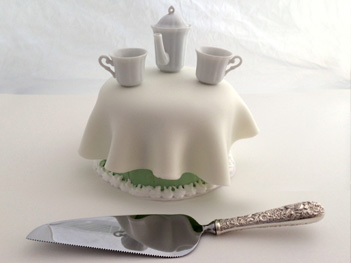 The idea for this cake came from a decorating disaster. But it came out so beautifully I just had to share. And the solution couldn't be easier.
I had made a very tiny cake, the cake pans were just five inches in diameter. And the plan was to create a small pillow cake with quilted fondant. But the cake just hadn't cooled enough and so, as happens when you try to rush, the frosting began to melt and crawl.
I just hate presenting a disaster cake, (even though we all know it tastes just as good). So I put the project in the fridge and ruminated on the problem, when the solution came to me.
I still had fondant, so I simply rolled out a sheet and draped it over the frosted cake, like a perfect little fondant tablecloth! Then it was just a matter of adding a tiny tea set to the top.
You don't have to make a disaster cake to try this one. In fact you really don't even have to make the cake. This idea could be added to a small store bought cake. I think it would be perfect for a child's tea party. Or better yet, a perfectly sweet wedding anniversary!