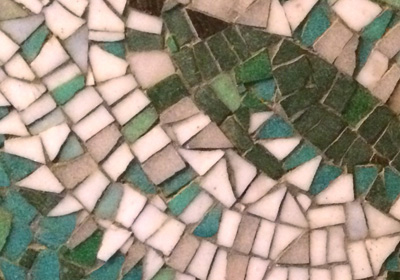 As a kid my siblings and I spent many summer days on the shores of Lake Michigan. My father was born in Northern Michigan, and his family's farmhouse, a quarter mile from the bluffs, was our vacation home.
One summer day in my childhood, we were exploring the beach. And we found a seagull struggling to free himself from a tangle of fishing line. The three pronged hook had pierced and caught the web of his foot as well as one of his wings. He must have tried to peck his way free as the third prong was now stuck through his bill.
My dad was able to free the hooks and untangle the bird, a favor that was rewarded with a bite on the hand. But it was clear the gull was not able to fly. By the time we were heading back south, our patient hadn't improved, so we brought him back home with us. He was dubbed "Charlie Bird". And as our city home was on a large natural pond, we figured we would try nursing him back to health there. My mom fed him tunafish until a naturalist friend told her he'd much prefer a fish from the pond (which he gulped down without hesitation). His physical therapy was administered by my brother leading him by leash down to the pond where Charlie would swim out and be gently pulled back.
Charlie's time spent with us inspired my artist mom to create a mosaic of him. With broken pieces of colored tile, my mom depicted Charlie with wings spread wide in a perfect picture of natural energy and freedom. I imagine this is Charlie, right when he was freed from his shackles and ready to bite the hand that freed him!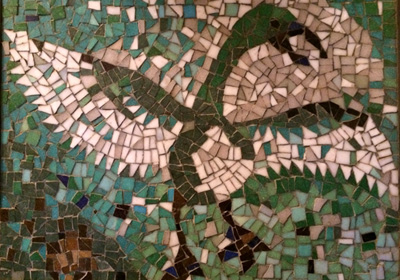 On a trip home to my parents house, I was reminded of this amazing mid-century work of art. It's an image so familiar to me, yet I hadn't thought of it in years. We are now building a communal kitchen with sleeping quarters on the "Up North" land and this Charlie Bird mosaic will be featured prominently. I'll create a color palette pulling from the blues, greens, whites, darks and grays. The vibe will be simple and natural. Like the sand, the trees and the wildlife we came to love, the house will let nature in and not be so delicate as to be wrecked by sand dragged in on bare feet or water from wet swimsuits (or feathers). The windows will be more about what you are seeing outside than architectural details inside. The spaces will be big and welcoming, as we rarely congregate with less than 20 people. The surfaces will be low maintenance, (who wants to spend all our vacation repainting). The house will be more about accommodating the people that gather than about it's own self. But it will be designed with simplicity, and good, smart, frugal but beautiful ideas.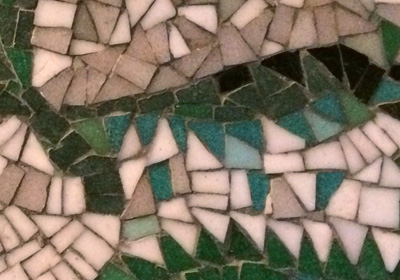 This Charlie Bird mosaic may not be the sole inspiration for this project. But it's influence, both as art and as memory, will be honored and fondly felt.