Ordering Information
All BellaPamella products are shipped from Minnesota and barring any back-orders can be expected to arrive within three weeks (most likely less). If there is any delay we will notify you by email. For any questions about BellaPamella aprons or more specific information, please email us at customerservice@bellapamella.com.
And thank you so much for your support!
Don't like Internet ordering? No problem! BellaPamella loves those who prefer doing things the 'old-fangled' way. Here's how:
Just print out the mail order form.
Fill it out and remember to add shipping, (the chart is on the form).
Mail your order with a check to:
 
BellaPamella
5124 Wentworth Avenue
Minneapolis, MN 55419
Once the check has cleared, your order will be mailed. Easy peas-y.
Questions? Just give Pam a call at: (612) 202 6877.
In a Rush? For an additional charge we can deliver your orders within a deadline. Press the "Add to Cart" button below to add a $25 rush shipping charge to your order. We will then ship your order within 3 business days.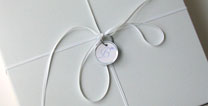 Would you like your order gift wrapped? BellaPamella products are tucked into periwinkle blue tissue and boxed in a pie box tied with baker's string and the Bella "B". A gift card with your message can be included, just indicate your wishes in the message area. Price includes additional shipping so your gift can be safely ensconced in biodegradable "peanuts" as it makes its way to its destination.
International? We can deliver your order to another country for an additional charge. Here's how:
Place your order as normal.
Shortly thereafter you will receive an email from PayPal that requests an amount to cover the additional shipping charges. If the additional charge causes you to change your mind about the order, email us (customerservice@bellapamella.com). We will refund your original order.
If you want to accept the charge, be sure to make the payment right away. Once you pay the additional amount, your order will be processed and you'll receive your item.
BellaPamella Shipping and Handling standard delivery rates:
| Purchase Total | Shipping Charge |
| --- | --- |
| $50.00 and under | $6.95 |
| $50.01-$100.00 | $9.95 |
| $100.01-$150.00 | $12.95 |
| $150.01-$200.00 | $14.95 |
| Over $200.00 | $16.95 |
Returns and Exchanges
If for any reason your BellaPamella purchase disappoints, just send it back within 30 days of receiving it. Whatever is returned is refunded the same way it was purchased, and you will receive notification that your card has been credited. The only thing not refunded are shipping costs and gift wrap.
If you would like an exchange, indicate it on the packing slip, and the exchanged item will be sent at no extra shipping cost. If there is a difference in the price, you will either receive an extra invoice for the difference, or your card will be credited the difference.
Send returns to:
BellaPamella
5124 Wentworth Avenue
Minneapolis, MN 55419
Privacy Policy
At BellaPamella®, we ensure our customers' privacy. You can be confident that BellaPamella does not sell or exchange email addresses with third parties.
BellaPamella uses PayPal for our shopping cart and payment processing. PayPal has their own policies, terms and conditions of use that you will be made aware of during the checkout process.