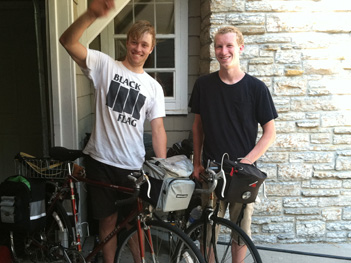 Last summer, my 19 year old son Ben announced that the next week he and his friend Will were going to ride their bikes to California. He told us this with the same lack of pageantry you would announce you were going to walk up to the store to buy a candy bar.
I wondered if over at Will's house they had any more warning or explanation of a plan. When we drove Ben to Will's house, the location of the "send off," we saw that no, indeed, there had been no more planning over there.
We arrived on the scene to witness Will's dad explaining that it would be very easy and quite practical to strap a small tent onto Will's bike. This recommendation offered, because the boys had discerned they would not need sleeping bags (it was California, and therefore a warm place), or pillows (apparently pillows are for sissies), or a change of clothes.
When I asked if it wouldn't be a good idea to bring an extra T-shirt, Ben's answer was they could wash their shirts out in a stream. When I suggested he might bring an extra shirt to wear while the stream-washed shirt was drying, Ben saw the wisdom in this, and acquiesced to bring a second T-shirt.
It was heart-warming to see Will's parents attempting similar suggestions. Somehow they managed to convince the boys to take their ancient second car to get to the west coast so that they might have a hope of, at the very least, getting out of Minnesota. The parents were planning on selling the car anyway (or donating it). The boys had permission to sell the car once they got to California if they wanted to. Or, if it broke down, they did not have to bring it back, but needed to remember to have it towed somewhere.
The plan was to sleep in hammocks, which they had purchased the week before, (but hadn't actually tried out yet). We all thought, even if the ancient second car completely broke down, it might still offer protection from the weather, and a softish place to sleep.
The timeline for the trip was "open-ended" as Ben quit his job for the rest of the summer and announced that he may decide to stay in California a while and not sign up for school in the fall. Interesting, because I heard Will say he wanted to be back for the State Fair in August, but apparently had failed to mention this to Ben. So it was not only open-ended in the sense they hadn't decided when to return, but even more so, since they hadn't actually discussed their plans with each other.
Then, we four parents stood in the driveway waving, and the two boys, with bikes in ancient second car, drove away.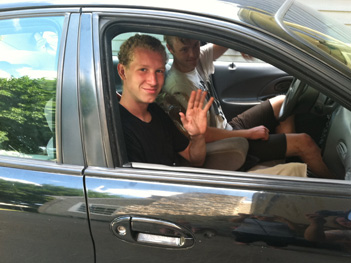 I told all this to my girlfriends while sipping wine in the backyard at an annual summer get-together and to my amazement, a year later, when we gathered there next, everyone wanted to hear: Well? What happened on the bike trip?
So, here are some highlights. OK, this is my recollection anyway.
The first night, the boys slept in the car. The next day, the car broke down and they managed to get it into a shop and jumped on their bikes to ride around. They had been aiming to drive from Minnesota to Seattle, ditch the car, and ride down the coast to California on their bikes. The car broke down again, and this time it was irreparable. They left it, and got a bus into Seattle.
Seattle was no disappointment. They located kindred spirits and empty couches on some memo-board (or Craig's list). They had been gone almost a week but had very few bike miles under their belts. At one point, they decided to take a hike. it was late in the day because, of course, if they were awake, it must be. They headed up a mountain trail with no water. Once they finally reached the peak, they realized they may be heading into trouble. They were far from their starting point and were losing light very quickly. They were regretting the decision (or lack thereof) to bring water, and I think there was a bear sighting.
They ran/tore back down the mountain and managed to return to their respective couches unkilled, which was fortunate, because they had a great story to tell.
At this point, the owners of the couches wanted them back, so the boys consulted the memo-board (or Craig's List) again for a ride closer to California. They were able to secure a ride to Portland for $20. That's $20 for the both of them. You just can't beat Craig's list (or the memo board) unless, of course, you have a silly concern about safety.
Portland proved to be a veritable cornucopia of opportunity. Will had relations there who put them up and fed them all kinds of home-cooked meals. Between this and their attempt to patronize every taco truck they encountered, they were not hurting for chow. But here they ran into a setback. The hike proved to be problematic to Will's leg, so they found a clinic that would take a look. Not a big deal, but Will would have to stay off it for a few weeks.
Huh?
Remember, they are on a bicycling adventure. Or, at least it was going to start any minute.
I got a text that they were returning by train. Their bikes were packed into bike boxes and checked like big cardboard luggage.
All tolled, it had been just under two weeks. There did not appear to be a lot of bicycle riding in this adventure. And they never did set foot in California. But our boys were returning, after not too much time, and on their own accord. So, we four parents did what one might expect we would. We drove to the train station where, teary eyed, we greeted, we hugged, and did our best to hide our complete and absolute relief.