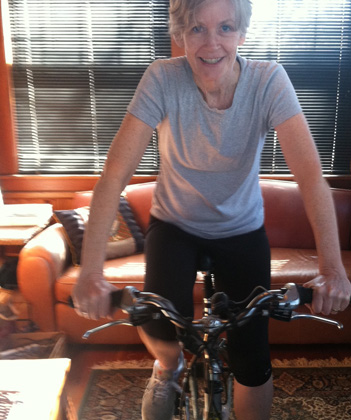 This morning I put my bike up on rollers in my sunroom. Even though there is still a couple feet of (old, dreary) snow outside, I'm determined to be bike-trained by June. See, I've committed to ride in the MS 150; a hundred and fifty mile bike ride over two days, to help generate money for a cure for Multiple Sclerosis. So, what does this have to do with the price of eggs? Well, as moms, it's difficult for us to carve out "me time." It seems there is always something or someone else that is more important than ourselves to consider. And so, we ignore our needs and tend to the squeakiest wheel.
But, child-rearing time is also a great time to consider helping out a charity. It's your perfect excuse to lean a little harder on your husband or support system, because after all, it's not for you. It's for the charity.
When my kids were small, our church often held sewing nights. All interested persons with a sewing machine would show up and spend an evening making diapers out of old T-shirts. Day care was provided by somebody's older child, and it was a great way to catch up with like-minded-freedom-deprived moms.
When my kids got a little older, they enjoyed pitching in to the cause. Which was, of course, a great way to teach kids about giving back. A local chapter of Feed My Starving Children held a 24 hour marathon in our town. Anyone could sign up for a shift bagging beans and rice for the less fortunate. The task was easy for my daughter and her friend to learn, but the best part was picking our shift, from 2:30 to 4:00 A.M.
We set our alarm clocks and drove in the dark to the facility. It was the most inspiring thing I'd done–especially in a hairnet. And I'll never forget how, after our shift as we stepped out of the building, we were greeted by the most beautiful sunrise.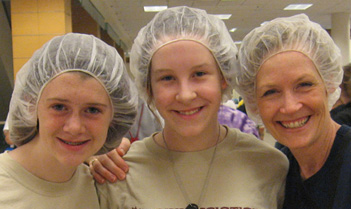 So, this June I'll do my best to ride my butt off for MS. Along with that comes the quest of getting myself in shape, and a goal to get on that bike every morning without fail for the next several weeks. It'll be a little something for MS. And it'll be a great big deal for me.
Win-win.