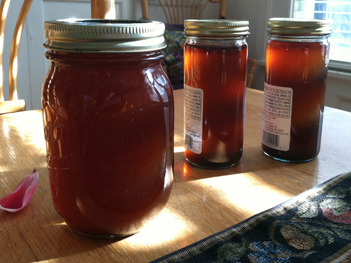 I remember reading a spoof on Martha Stewart where she purportedly had a recipe for making your own water. And this comes close. But.
When you live in the Midwest, well, when you have kids, sometimes you do things you never dreamed you would in the name of adventure.
We live in Minneapolis, the "South Metro". We are a stone's throw from the city in an urban neighborhood. And we have several mature maple trees, including a majestic Sugar Maple. When our neighbor called a tree trimmer to help remove a large branch from one of his trees, we observed from next door. Where the limb was removed, a veritable river of sap flowed out.
Huh, we said.
The next thing I knew, my husband had drilled two holes in our maple and began collecting bucket after bucket of pure maple tree sap.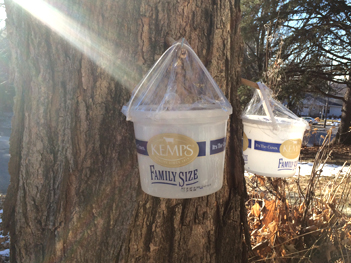 He went online to discover that any maple tree can produce beautiful maple syrup, and our sugar maple would produce at the rate of 40 gallons of sap to one of syrup. Why not?
According to the online recipe, the time to sap the sap is when temperatures drop below freezing at night and rise into the 40s during the day. In Minnesota these conditions typically occur during the month of March, but depending on where you live, it could be anywhere from mid-February to April.
And get this: you probably have everything you need to produce maple syrup right in your house. Basically, what my hubby did was: Collect the sap in ice cream buckets, emptied each night into a 5 gallon paint bucket from Home Depot.
Once he got a bunch (and the sap seemed to be slowing down) he set up a boiling station out on our back patio. It seems there is a lot of boiling and evaporation, (which means doing it in the kitchen is not a good idea, unless, I guess, if you have a lot of wallpaper you'd like to remove).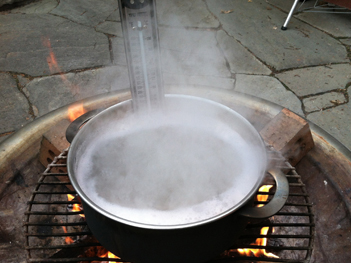 He filled my big soup pot with sap and brought it to a boil. Then he sat and monitored. As the liquid boiled down, he added more, always keeping a steady boil. Our 5-gallon Home Depot bucket of sap translated itself into one pint jar and two more little jars of delicious maple syrup. Enough to keep this family in homemade maple syrup until next spring.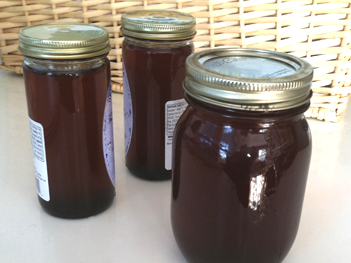 So, was it worth it? Well, if you were just looking at the money savings, you would answer no, not even close. But what value would you put on creating something as magical as maple syrup straight from your yard, with no special tools at all? I'll leave that one up to you. But if you do decide to give it a whirl, you must let me know! You are a sparkle in an otherwise world of practical, Martha!