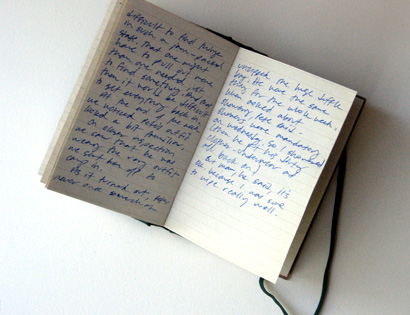 This morning my teenage son was telling me about a wrong number he received on his cell phone. The caller, apparently attempting to reach a landlord said "The toilet is backing up! I need help here!" My son asked "Is it still running?" the caller said it was, so my son said, "Do you see a little knob down underneath on the left side? Turn it all the way until the water stops." The caller did so, and the water stopped. "OK,"  the caller said, "now what do I do?" to which my son replied, "I don't know. You have the wrong number."
I just about choked on my Cheerios, I was laughing so hard. Let's face it, every now and then one of your kids will say or do something that is either so funny, or so sweet it practically blows your mind. And I know we are all so very busy. But this is my plea to get you to dedicate a small notebook to writing these things down.
Buy a small "blank book." This is not hard to do. We have all seen them, fallen in love with them, then couldn't think of anything good enough to write in them, right?
If something one of your kids does strikes you as funny, write it in there.  If you can't think of anything, (or nothing funny has happened yet), write the story of giving birth or adopting them. This book will become a personal bedtime story for the kids. You wouldn't believe how they love to hear stories about themselves. If it's funny, and it's about their sibling, even better. Since it's being written for the kids, you don't really have to worry about the quality of writing. It's the stories that matter. I have been recording stories in our book since the kids were quite small. Eventually it will end up being a keepsake, and possibly inspire them to do the same for their kids.
So, to my friend who's daughter asked him, "Daddy, is that a REAL clown, or just a guy dressed like a clown?" I say: Write it down!