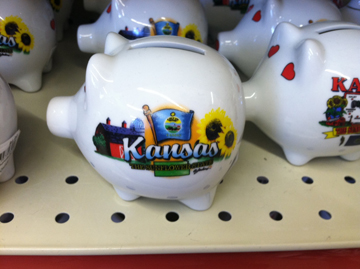 For many spring breaks our family of five has hit the road for the annual Road Trip.
Once my oldest began college, he had a different spring break week. So, we just hadn't gone in what seemed like a very long time. But this year, we decided to go with what's left of our dwindling family.
My middle son is 18. And I'm sure it's no surprise that a few days before we were to leave he began making his case to stay home. And no one I complained to, (husband, office-mates) gave me the satisfaction of even humoring me, let alone agreeing that I was right, that he should feel excited, or at the very least obligated to go.
But here's the thing. I really wanted my son to go with us. Not because I didn't trust leaving him for a week (with his older brother and our dog), but because I just wanted very much to be with him. And somehow, miraculously, he saw the light and came along.
Not surprisingly, the road trips, whose photos fill to overflowing my many photo albums, really are some of the most dear memories we have. He'll never admit it to me, but I think this son, in the very back of his mind, cherishes those memories too.
So, we headed off to Texas because we hadn't done that trip, and it was somewhere we could drive to and back in a week (which is, of course, the first requirement of a Road Trip).
Several hours speeding along America's highways gives one ample time to ruminate, and I began thinking about how different a road trip with grown children is than one with little kids. I remember one trick that worked so well when they were little. I actually wrapped six small "gifts", two for each kid. The point was, just when things would get out of hand I would distract them, one child getting to open something. It would be something the whole lot could play with, like a deck of cards, or colored pens and paper. They were things I would have brought along anyway, plopped in a bag, but the fact that they were wrapped like presents put a whole different spin on things. It got their attention and made their trip much more exciting. Now, with teenagers, I brought a different kind of trail mix for each, (Target has an awesome variety) and marked big bottles of water with their initial. It's not wrapped prizes, but the kids still respond to the love.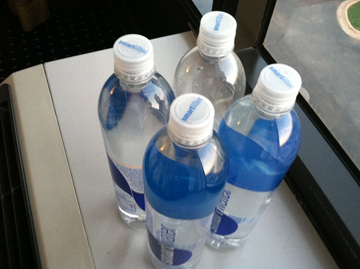 I'll be the first to admit there was a bit of nostalgia to planning this trip. So I tucked in a binder we've been adding to for years. The binder is filled with drawing paper. And there's room for a zip-lock bag of pencils, erasers and colored pencils. A big rubber-band keeps it all together. And it's usually packed with a few clipboards. This book of drawings spans many years of car trips and it's priceless. I was happy to see the attraction of making drawings is still there, as my daughter sketched a lovely rendition of her shoe.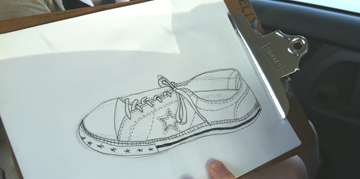 This same smart daughter also came up with what I thought was a dandy car activity. She took a close-up (well, as close as you can get while speeding along the highway) photo of every different color car we passed. The object being to make a rainbow of all the car pictures at the end of the trip.
We've gotten smarter about car food, as we kept the snacks generally healthy, and stopped for the most photogenic smoothies, one strawberry, one Very Berry and one mango–all with different color straws.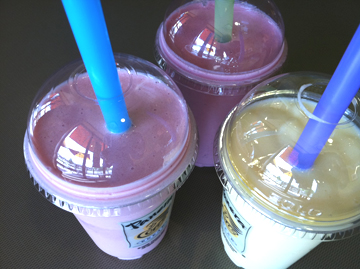 And even though we're all so "mature", there's something about a car trip that just brings out the family in you. We all marvel at the amazing things you can see as you roll along. We saw a hot-rod called "Godzlla" being hauled in a trailer. We realized we were in windmill territory when we saw three semis each carrying one blade of a windmill, hitting home just how gigantic those things really are.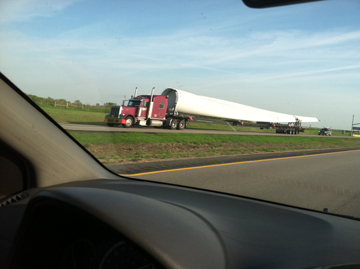 And we saw some cattle standing and walking along in what must have been a large, very shallow body of water. As the animals moved in the late afternoon light, it looked as if they were walking on water.
Honor the road trip tradition. You won't be sorry you did.