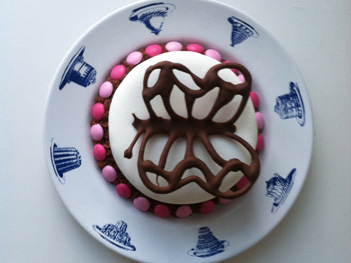 We all have our coping mechanisms, and it's a good thing we do. Here in Minnesota, winter brings a boat-load of snow and this year, record below zero temperatures to boot. That's why I was so delighted to see this sweet extra-curricular project my daughter fashioned. Here, in the midst of snow days and the occasional power outage, she didn't just bake a cake. She baked a pink-and-chocolate-and-white cake with a lacy chocolate butterfly on top.
The cake is tiny, only about four inches across. It's white cake, covered in chocolate buttercream frosting, with rolled white chocolate over that. She piped a ring of frosting around the bottom into which she pressed alternating light and dark pink m&m candies. But the true genius is the butterfly. After melting the chocolate, she folded a piece of parchment paper and placed it, unfolded, onto an open book. The parchment paper took the shape of the curved pages underneath, as did the chocolate, drizzled in a butterfly shape. Once cooled (in the fridge), the resulting winged creature stands 3-D atop the cake as if it just alighted temporarily before moving on to the next posy.
I can't decide which was the more gratifying winter escape: The beautiful butterfly, or gobbling it up! Yum!