Do you ever get just a little bugged by the amount of holiday wrapping that ends up either in the fireplace or the trash? Does it kind of gnaw on you to have to add extra money to your holiday budget to buy gift wrap and ribbons? I'll admit it. Both those things kind of bother me. So, here's something I'm doing this year.
If you read the last post, you saw the groovy brown paper roll I keep for oodles of practical purposes. And I just wrapped up a bunch of gifts in that simple paper. I got the boxes from a stash in the attic (three of these are shoe boxes), and used fabric ribbons, also from my stash. I like to use satin or grosgrain ribbon because I re-use them year after year. Yes, really I do. I leave a lot of them cut quite long, and don't necessarily cut them again. And on Christmas morning the ribbons go in a basket and the brown paper will go in the fireplace. If you're halfway decent at gift wrapping you could even leave off the tape. But I won't hold it against you if you don't.
The other thing I collect is little fake berry bunches from the craft and floral store. These get tucked in the bow and also saved year after year. And both the embellishments and ribbons are always purchased either off-season or after the holiday at drastic discounts. One thing I like about buying off-season is you can pick up less-expected looking ornamentation. Another is that I can find things at my leisure, rather that settling for whatever I can find at the last minute.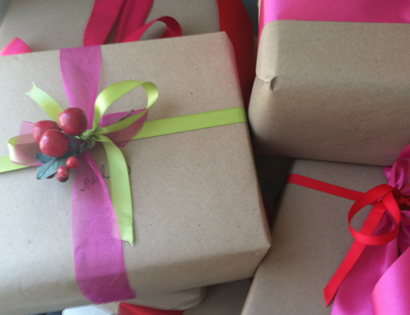 That's it. Just a quick simple idea from an self-described cheapskate!