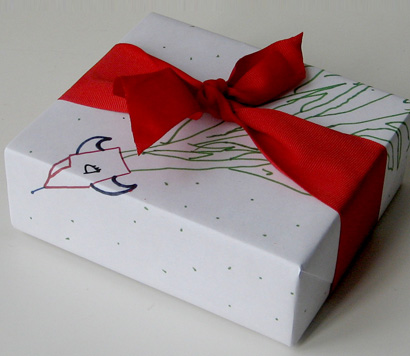 If you've been a BellaPamella fan long enough, you remember the "famous" BellaPamella Kid Art Calendar. (See more here).
Kids churn out such a quantity of beautiful work, I'm always thinking about new ways to use it. This idea is absolutely the perfect thing, especially for gifts to grandparents: Use some of that fabulous art as wrapping paper. Even if your gift is a box of chocolates, how much more fun is it to wrap the box in art made by your kids, and sent from the whole family? It's not just original and cool, it gives kids a chance to make a contribution.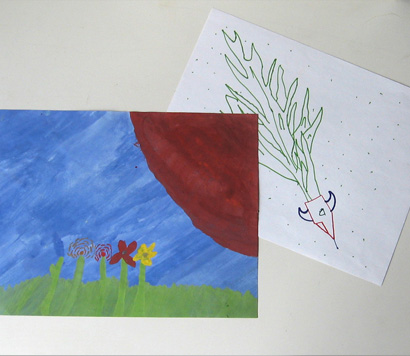 Of course this idea is pretty self explanatory. The hardest part is deciding whether you want to use your favorite ones. But I've found kids have a bottomless capacity to crank out pictures, often of the same theme.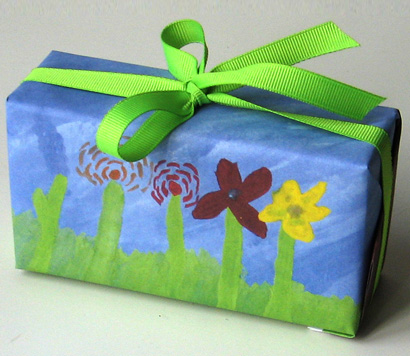 I keep a collection of ribbons in a bin. There are great sales on rolls of grosgrain or satin ribbon to be found at the craft or fabric store. I buy a few rolls whenever I'm inspired. Then these can be used to tie up your packages. Fabric ribbon is so beautiful. And yes, I do save the ribbons once the packages are open. It seems silly to save the "disposable" kind of ribbon. But save the fabric ribbon, plop it back in your bin for use another time and it not only makes you feel a tad more environmentally friendly, your ribbon bin stays full.
If you find the artwork your kids are producing isn't big enough, try giving them a large piece of paper to decorate just for this purpose. But don't tell them it's for wrapping paper or that could affect their designs. The fun part is that it doesn't look like regular wrapping paper. At our house a large paper roll is a staple. A big roll of paper from the paper warehouse lasts for years. Sometimes it's white. Right now the roll holder is filled with brown paper and I use it for everything. Try tearing off a sheet the size of the table and give the kids fat brushes and bright tempera paints and see what you get. You can then cut off as much as you want and wrap lots of gifts.
Sometime maybe I'll do a whole blog entry on why your house needs a big paper roll dispenser. Years ago I asked for it for my Christmas present from my husband and I can't think of a gift I use more. Come to think of it, there's something to put on your wish list this year. Meanwhile, happy wrapping!