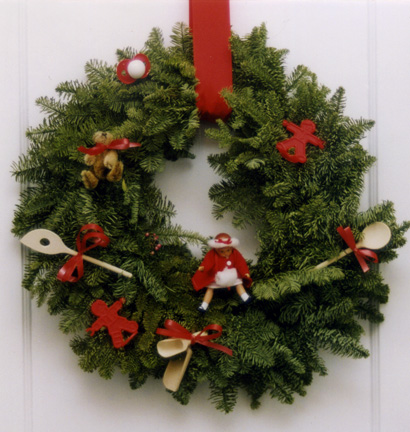 A simple and beautiful tradition to add to your holiday ready-making is the bedroom wreath. We do one for each child's door. You'll need a plain evergreen wreath, (you can use artificial wreaths if you prefer), about a yard and a half of 3" wide grosgrain ribbon per wreath, and some smaller, 1/4 inch wide red grosgrain or curling ribbon.
Gather a collection of small toys from each child's stuff. From my son's room I collected all red things: A building block, a red crayon, a truck, and red plastic army men. I even made a small red paper airplane. From my daughter's room I collected tiny wooden spoons and a rolling pin, a small doll, a tiny bear, red plastic toys, even a red pacifier.
Using the narrow ribbon, tie the objects onto the wreaths. Loop the 3" wide ribbon through the center and line up the two raw ends. Thumbtack through both layers to the top edge (horizontal surface) of the door. Use very flat tacks so the door can open and close freely. If you like, embellish with a bow.
If you happened to have installed a hook as suggested in Idea #5 "Saving Private Places," forgo the wide ribbon. Just hang the wreath right on the hook!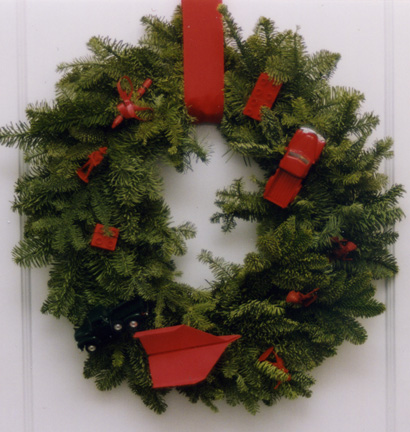 On December 7, I demonstrated this idea on Twin Cities Live, a local Minnesota show. The wreaths we did on the show are shown below.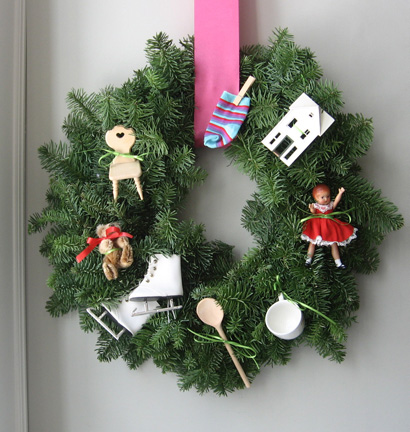 And one we didn't get to is the "teen" wreath. I used old batteries, an old pair of "ear buds" and my son's cell phone that went through the wash! Instead of ribbon it's hung with silver duct tape.