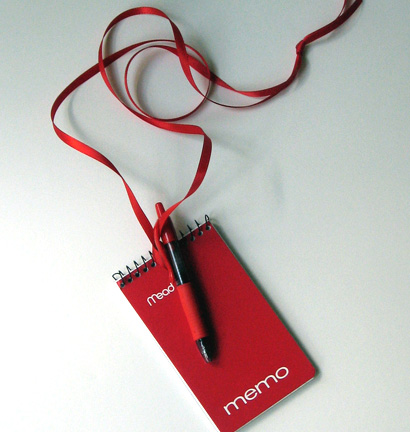 I'm pretty sure it has to do with having multiple kids, but sometimes, especially at the holidays, I really need a good way to jot down my thoughts. Just any old list will not do, since I think of things at the most inconvenient times (like when I'm out shopping, or taking a walk to clear my head). I found that I just needed a pen and paper handy all the time.
The solution? The To-Do list necklace. Buy one of those tiny lined notebooks (I like red) and about 1 1/4 yards red ribbon. Slip the ribbon through the hole and knot it to form a long notebook necklace. Clip on the shortest (red) pen you can find and if you like, embellish with a jingle bell. Now you are ready to record every fabulous thought.
Write each family member's name on it's own page. Then when a gift idea pops into your head record it on that page. Use a page for your own wish list (in case anyone asks) and one for food or other house stuff you are thinking about. You'll be more organized if different type tasks are on different pages. And since the book is just for the holidays, you won't worry about using lots of the pages.
You will be the most organized person you know this season. That's so BellaPamella!