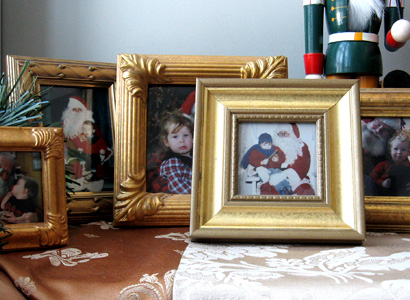 If you have been taking and saving photos of your child with Santa, you may have been looking, like I was, for a way to use them. (And if you haven't been, maybe this will inspire you to do so!) This little idea seems so perfect you might wonder, why didn't I think of that?
While you are perusing discount and craft stores, start collecting interesting gold (or silver) frames. I would buy one when it was on sale, or caught my eye. Size can vary from tiny to about 5"x 7". Then, each year when you photograph your child with Santa, frame it in one of the frames. Make sure to write the year on the back side. These treasures are packed in a box all year, but at Christmas time, they come out to fill the fireplace mantel.
This will be a holiday tradition you will treasure long after your kids have moved away.