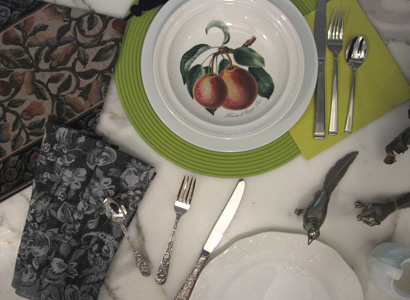 Here is what I have come to believe about the Thanksgiving holiday:
The best part of this holiday is cooking the big meal with ones you love. And not only does it not matter if you make the same meal every year, everyone actually likes that. If you buy into these two things, Thanksgiving really can be the wonderful, not too stressful tradition you wish it were.
Here are some tips for cooking with a big group in your house:
1. Make YOUR quintessential Thanksgiving meal. Of course this means all recipes you like to eat, and equally important, you understand how to make. Mine is Roast Turkey, butter & sage stuffing, braided egg bread, ginger/pear cranberry sauce, mashed potatoes, gravy, baked squash with molasses, tarragon green beans, pumpkin pie and apple pie. It's pretty much always the same meal and my kids have come to believe that braided egg bread (for example) is what one makes at Thanksgiving.
2. Record all the above recipes in a spiral notebook titled THANKSGIVING. Next year you will be so glad you did this. If you are really industrious, add the shopping list in the front. Honestly, you only have to do this once. Every year after that just pull out the notebook and make the same meal. Why reinvent the wheel?
3. When you get up on the big day (at the crack of dawn) make Belgian waffle batter (Yes, you can use the box kind). Get the waffle iron set up and the minute your family starts arriving put as many guests as necessary on waffle duty. Making, distributing, and munching on waffles is great because it creates easy jobs (which you need with a kitchen full of guests), and you won't starve as you spend all day creating the big meal. No syrup necessary, just dust with powdered sugar and serve on a napkin.
4. Unless you are big football fans, buy a big jigsaw puzzle and have the kids start it on the coffee table. It's more social than TV and doesn't require non-interrupted time.
5. After dinner, invite everyone outside for a big family walk. 
Nothing too fancy, but it covers the important stuff.  You'll be creating good memories. And with any luck you can manage being together without being at each other's throats! Have a wonderful holiday. And don't forget to say thank you!