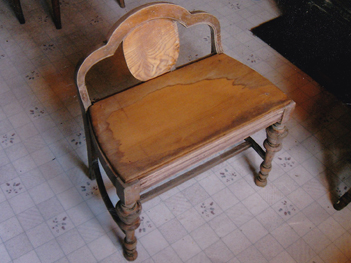 I love to troll around flea markets looking for that odd old thing that's just begging for me to buy it and make something out of it. Such was the case when this little boudoir bench caught my eye. It had a raggedy finish and was topped by a flat piece of wood with a garish striped fabric stuck to it. Still, the unusual piece and deeply turned legs grabbed me.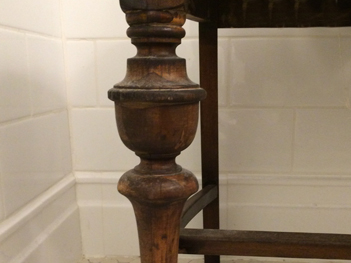 I stripped, stained and finished the legs and back. And cut a nice thick piece of foam for the seat. But for the longest time I couldn't decide what fabric to cover it in. Until one day when I found myself at another flea market. And was standing there holding this beautiful old faded seed sack that said "Bemis Extra Heavy Seamless" on it.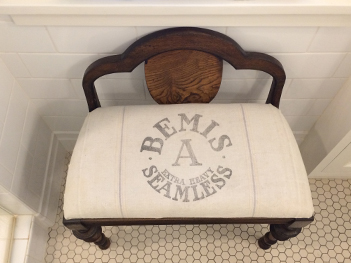 That made the perfect cover. The result is so sweet, and dare I say, chic? I noticed Restoration Hardware was selling a similar look in their latest catalog.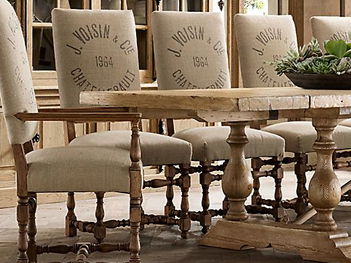 Now the bench lives in my bathroom, at the ready if you're looking to set down your towel, or need a place to prop the iPad next to the tub. And everyone who comes in there comments on it.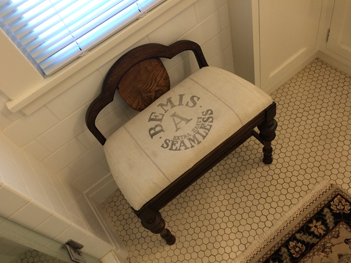 I just tell them it's from Restoration Hardware. (Not really, but it so could be).