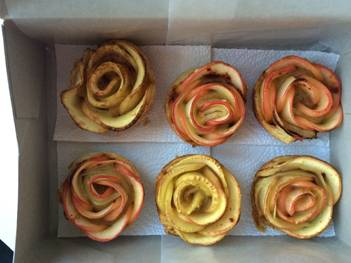 I just had to make this the February tutorial because, what's better than sweets AND flowers to celebrate Valentines Day? Whether you make these for someone else or yourself, you'll feel the love.
Sometimes a food recipe photo or tutorial is super-pretty and looks so easy. But when you try to make it, the result is much more difficult, and less attractive than in the picture. Well, this one is different! It really is that easy, and these turn out as cute as they say.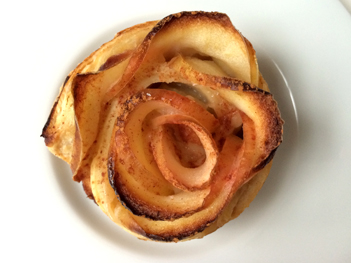 You may have seen this fun link for "Apple Roses" .
I wondered if it was really as simple and wonderful as it looked so I tried it. And, contrary to what I was expecting, they turned out every bit as beautiful and delicious as the picture.
I used peach preserves instead of apricot, just because of personal preference, but I bet you could substitute any marmalade or preserve you like. And I prefer to do a double recipe so you use exactly one package of puff pastry. Besides, six roses just isn't enough! So, here would be your ingredient list for 12 roses:
4 apples (any kind you like but the red skin color makes pretty roses)
1 lemon
6 tablespoons preserves (I used peach)
4 tablespoons water
I package puff pastry containing two sheets
Cinnamon
Powdered sugar for a sprinkle at the end, if you like
Follow the fun tutorial and see what you think. I then packaged mine in a simple pastry box tied with a narrow grosgrain ribbon. The ultimate in taste for any deserving Valentine.
Including yourself, of course.