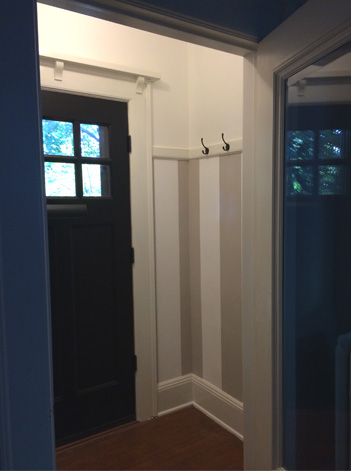 The decision to redecorate our entry wasn't exactly a decision. Or at least, not one made by us.
One spring morning at the tail end of a particularly grueling winter we opened the interior door to the front vestibule only to find a waterfall coursing down our exterior front door. There had been an ice dam in our roof (a very Minnesota thing) and the springtime version of an ice dam is a (damn) waterfall just where no one wants one. In this case, it completely and spectacularly totaled the door. The good news is that while it was purportedly original to our 1912 house, our door wasn't particularly wonderful. It was made with veneer, which in 1912 was about 1/4 inch thick. And even without the help of the waterfall, the layers had begun to separate and curl as if the door had been made out of giant potato chips.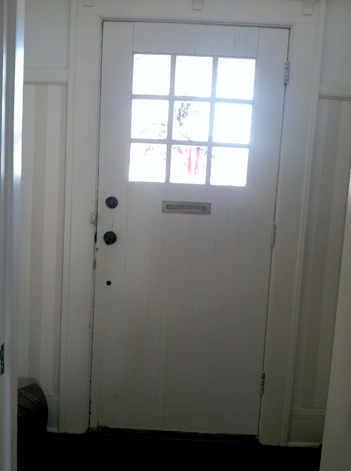 What followed was one of those projects you would never bother to do, but end up being so glad you did.
If I were to prioritize all the things I would like to do to the house, redecorating that four by six foot space between the outer and inner front door would not be too far up on the list. But once there were huge holes in the walls (opened up to ensure there would be no trapped moisture), suddenly a little sprucing up seemed like a capital idea. The room had been wallpapered, so removing that was another project I never would have bothered with (but had to, because of said holes in wall).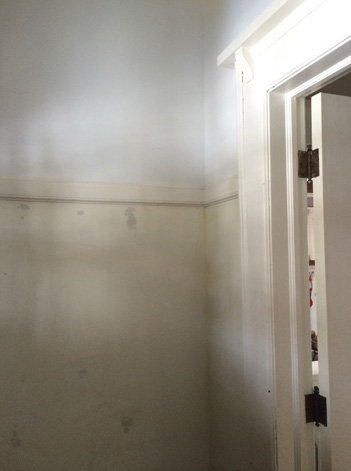 In the end I decided to have some fun with the wall moulding. It's like a chair rail, except at about eye-level. I painted the wall dove gray below and white above. And then decided I kinda missed my striped wallpaper (although after all the trouble to remove it, I wasn't about to paper again). So I taped off some lovely wide stripes and painted them white.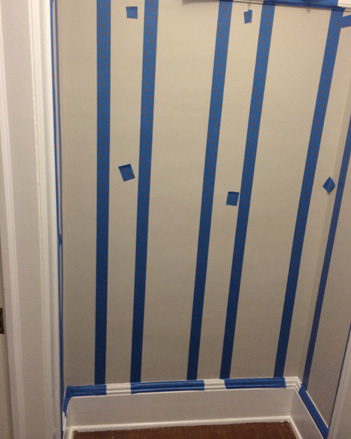 Then I screwed hooks all around the room on that railing.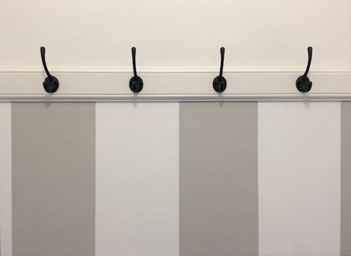 We ordered a new door, and this one was so gorgeous I stained it a deep color, such a change from the old door that had myriad coats of white paint on the inside.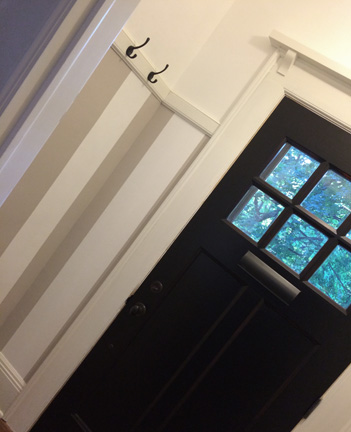 Now our entrance is fit for royalty. Complete with plenty of cute hooks to hang up their cloaks.
Or, in the case of our visitors, hoodies.