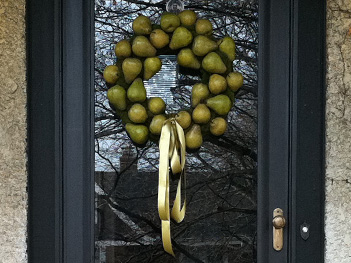 Those who shop Nordstrom's may be aware of their policy not to "deck the halls" until the day after Thanksgiving. Shoppers who grow weary of tinsel and lights weeks before Christmas find Nordstrom's policy a breath of fresh air. I hold a similar view. The day after Thanksgiving, all bets are off. But until that time I like to give each holiday it's day in the sun.
The only problem is that it can be confusing (or wasteful, or just a lot of work) to treat Thanksgiving completely separate from the festivities to come. Case in point, the well-meaning homeowner (below) I spied this morning.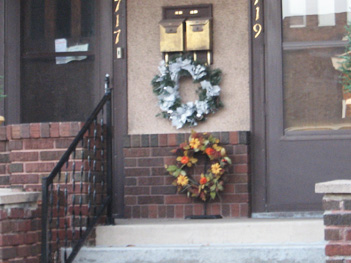 Some might remember my blog entry a couple years ago on how to take a simple decoration and transition it from Halloween to Thanksgiving to Christmas. This year's idea is even simpler. Because after all, celebration makes the world go round, but in my book, simplicity keeps it sane.
I'm having a big crowd for Thanksgiving, so I wanted to doll up the front of the house. I scored a great deal on two pots of spruce tips from the grocery store, complete with "sugared" red berry branches. I love the sweet look, but just not quite this early, so I temporarily removed the red.
I'm kind of a pear freak, and I just happened to have a pear wreath purchased a few years ago from Target.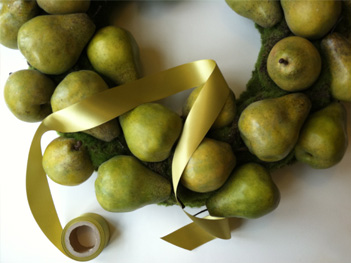 A quick trip to the craft store produced a spray of mini pears and some gorgeous taupe, and pear and colored ribbons.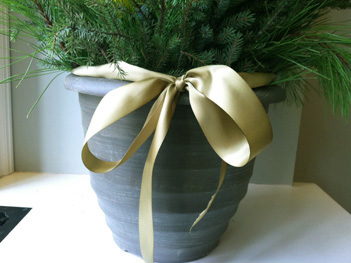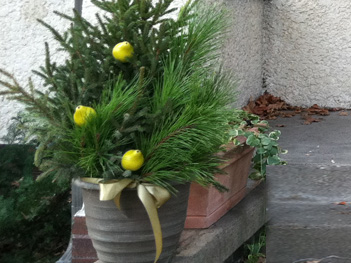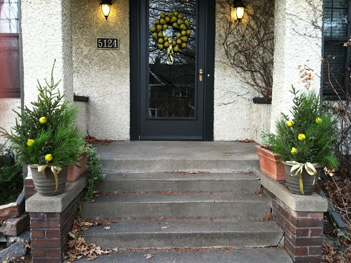 And, "Voila!" my front porch is ready to welcome my family and guests.
So here's the funny part. My intention was to doll up Thanksgiving with an updated cornucopia-type theme using pears. But the resulting motif, with the pears, ribbon and wreath, form a fresh holiday look that may just take me through to Christmas!
(And I can always add in the sugared berry branches on Friday).