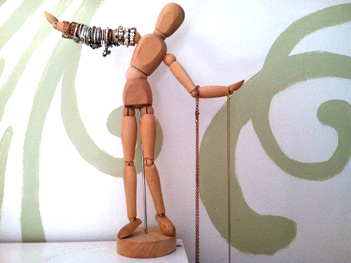 One of my favorite national magazines just did a contest. People sent in their ideas for using something that was meant for another purpose as an organizational tool. Of course I didn't hear of the contest until it was in print. But if I had, I would have sent in this great idea my daughter had.
Most art supply stores have these posable figures meant to aid an artist doing figure drawing. My daughter fell in love with one and bought it for her room. Now she uses the perfect, posable arms to hold her rings and necklaces.
And, thus, she has begin to discover the art of "home dec". She's found not just a handy way to organize and display her rings, but something that does it in a personal way, that speaks to the artist within her.