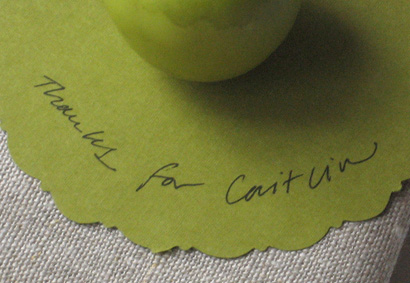 Whether you are hosting a big dinner, or preparing to head out of town, if there's a Thanksgiving meal in your near future, you know how lucky you are. Thanksgiving is often one of the few times of the year most of the family is together.
For this year's table, why not make sweet little name place cards that do a little more than just point out where someone should sit? This simple idea combines a few things I love about Thanksgiving. It'll make the table even more special, it's an easy project, and doing it allows me to dwell on all the things I'm thankful for.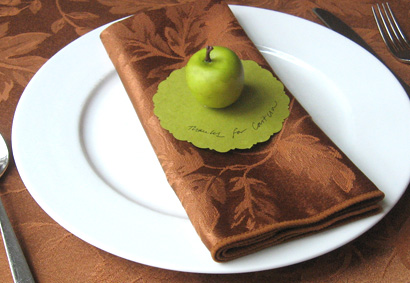 For the project you'll need some pretty paper and tiny faux green apples from the craft store, a hot glue gun, a pencil, a black fine point pen, something about 3 1/2″ round to trace around, like a glass, and either plain or fancy scissors.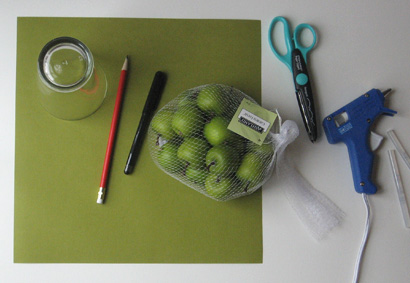 Use the glass and pencil to make 3 1/2″ circles on the pretty paper. You'll need one per person. If there is a right and wrong side, make the circles on the wrong side. If you are using the fancy scissors, cut along the outside of the circle, so you will still see the drawn circle when it's cut out.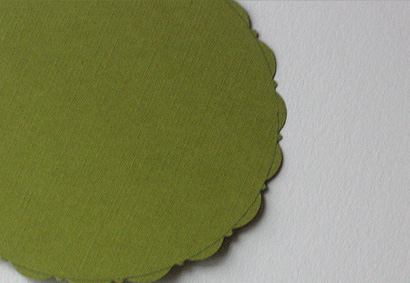 Once you've cut all the circles, on the top side, you may put a very light pencil line in an arc about 5/8 " or so from the edge. (This is optional). Then, with the pen, along an arc shape, hand write "Thanks for [NAME]" for each person that will be at the table. The last step is to hot glue a tiny faux apple to the center of the circle.
If you don't want to tell people where to sit, another idea is to name things you are thankful for. Then, like "stem gems" people can pick whatever sentiment they like! Some thoughts could be:
Thanks for being here.
or
Thanks for the happy.
Thanks for the warm.
Thanks for the calm before the storm!
Thanks for this family.
Thanks for this meal.
Thanks for the jokes.
Thanks for how I feel.
Okay, I couldn't resist a little rhyme! Here are a few more pictures. I almost can't decide if I like the plain or fancy cut. Do what works for your decor and make your thankful table as plain or fancy as you like! And Thanks for reading!