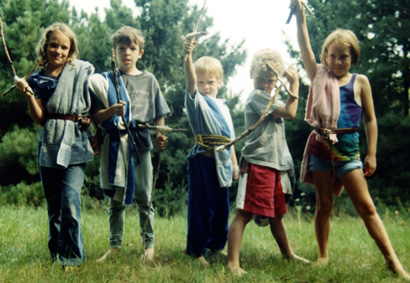 The combination between the end of school and summer's warm weather provide the perfect opportunity for an annual family trip. Here in the mid-west, countless families head "North to the Cabin", and I'm not the first to notice how time slows down these hazy lazy days.
We take the annual summer vacation to the family farm in northern Michigan. And since our children were born, it has become the time and place that, once a year, they bond with their cousins.
Northern Michigan cherry orchards, sand dunes, and lakes have been the backdrop for relationships that have been playing out two weeks a year for the duration of their young lives. And as a parent, it's one of my favorite things. It has not only cemented the relationships of the children, but of myself, my siblings, parents, and in-laws.
Jacqueline M. deMontravel, editor of Romantic Homes Magazine, in her letter from the editor, expressed what I consider a near perfect reflection on summer. I had to share it with you. Here is Jacqueline's letter, with a title that could have been the title of today's idea. May everyone reading this take a moment to breathe in and quietly savor summer, whether you choose to travel to the woods, or just the back yard.
Let It Go
July follows the loose, relaxed style of a past-season sundress. Fully entrenched in summer, stray towels, flip-flops and all the necessities brought back from beach day can wait an hour, or day, to be tidied up.
July is the coffee break of the calendar year. Urgent matters become less urgent. Casual conversation lingers into the evening. The style of the summer follows these tenets. You are less likely to succumb to modern conveniences, opting for the entertainment provided by the season. There are many: falling asleep outdoors, losing a day to the garden and listening to the sounds of night.
At home you cook more. Meals are made with fewer ingredients but fresher foods. People come over frequently. There is more of a desire to entertain when you are so relaxed, feel less strained and have no qualms if a guest may spot a basket of laundry.
It is a forgiving season. It is also fleeting, which is what July is about.