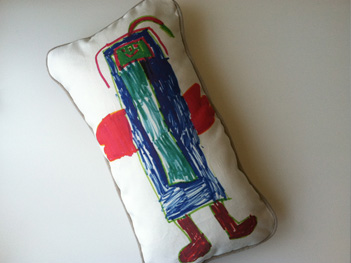 Anyone who has been keeping track of the Never-Ending-List-Of-Very-BellaPamella-Ideas knows that I love a great idea for using kid art. If you have kids, this art resource is abundant, and every once in a while you score a piece that is absolutely priceless. This fantastic idea will add to the other terrific ways to put kid art to use.
You may have already discovered this wonderful site set up to let you print your own fabric, called Spoonflower.
This site allows you to design as small as one yard of fabric and they will print it for you! I tried this once and was completely hooked. Then one day I realized, this was a perfect way to produce an amazing keepsake of my children's art!
You need a scanner so you can scan your child's art. Save it as a jpeg, and follow the instructions on the Spoonflower website to make sure your scan is the proper size. You can choose from a variety of fabric types, but for these pillows I selected Linen-Cotton Canvas.
One yard of the linen-cotton Canvas is 56″ wide, so I was able to fit several pieces of art in my one yard.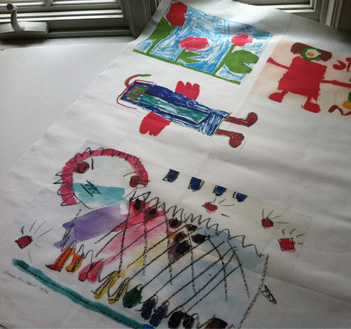 Upper right is my young daughter's "self portrait". Then, counterclockwise, there's some beautiful pink flowers, an angel (or is it a butterfly?) and a Chinese New Year dragon parade. And this is only half the yard.
You could also "repeat" the art and it will automatically fill the yardage. This would be perfect for curtains or bedding.
From the fabric store, I bought some simple linen in a neutral color for the backing and piping. Whatever you buy, get enough for the pillow back and to cover the store bought piping, or you can use the ready made Wright's piping if it comes in a color that works.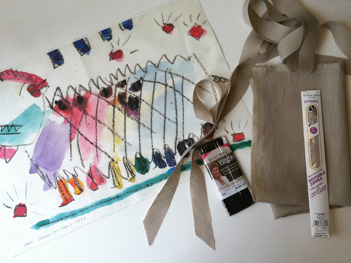 To cover piping, cut strips of your fabric on the diagonal (use a 45 degree triangle if you have one. If not, fold a piece of paper in a triangle. If you bring two consecutive edges together you'll get a 45 degree angle. You only need this as a guide to get you started on the right angle).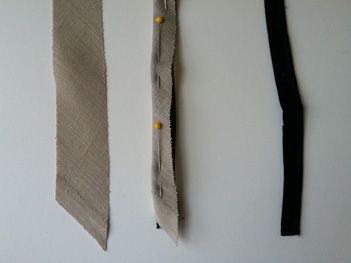 You don't have to use piping on your pillow, you can just sew the front and back together, right sides together, and turn it inside out, stuff, and stitch the remaining edge closed. But I like to add piping and a zipper. Choose the method that closest matches your sewing prowess. The point is not necessarily the fanciness of the sewing, but the sweetness of your child's artwork, now on a huggable pillow.
And I'm sure I don't have to say how incredible a grandparent gift this would make. OK, now get going! I've given you plenty of time to get this done by next Christmas!