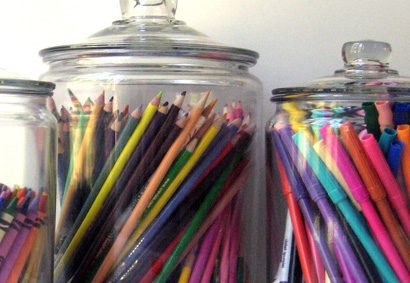 It's September. Which means you very well have replenished the stock of colored markers, pens, and pencils. Let's face it. When you have an organized environment it really does inspire use.
This simple and sweet idea comes from my friend Anne who, like me and probably you, is thrilled to figure out a clever way to keep kid-stuff organized. Anne's boys had a jumble of colored markers, pencils, crayons and pens. The supplies were a big hit when they were first purchased, but soon became spread all over the house, buried in various drawers, lost in the general chaos of life at home.
Then Anne got the idea to purchase clear glass jars from the kitchen department of a local big box store. The jars came in two sizes, so she chose a selection to house the various supplies. All the crayons went in one, the colored markers in another, and so on.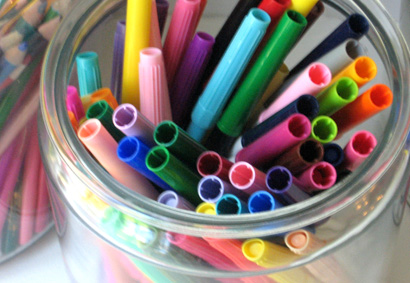 The resulting jars now inspire her boys to create. They bring a jar to their room, and when they're done, they bring it back to the shelf in an open cupboard in their sunny front room where the display looks as great as it is functional. (How many kid-stuff solutions can you think of that not only clean things up, but add to your decor as well)!
I don't know about you, but now I'm inspired to go out and buy all new pens just to do this.